Holy unused weight room at Bill Gate's house Batman! Could it be that after seven long years the Raspberry Pi Foundation has finally ….. Yes it has!!! The Raspberry Pi 4 has finally hit the official Raspberry Pi Store in Cambridge as well as a lit of official retailers!

Hold on…seven years is a long time. The Raspberry Pi Foundation has a crowd of nerds, geeks, developers, kids, noobs, and hackers to impress. Le's see just what makes the new Pi so special.
Check out the Pi 4's Promo
Woah…nothing get's me pumped like fresh PCB guys!

Let's check out the highlights of the new board.
Raspberry Pi 4 Model B
Here are the highlights:
A 1.5GHz quad-core 64-bit ARM Cortex-A72 CPU (~3× performance)
1GB, 2GB, or 4GB of LPDDR4 SDRAM
Full-throughput Gigabit Ethernet
Dual-band 802.11ac wireless networking
Bluetooth 5.0
Two USB 3.0 and two USB 2.0 ports
Dual monitor support, at resolutions up to 4K
VideoCore VI graphics, supporting OpenGL ES 3.x
4Kp60 hardware decode of HEVC video
Complete compatibility with earlier Raspberry Pi products
Here's the handsome devil himself.
Raspberry Pi 4 memory options
Pi followers will note that this is the first time the Pi is offered with different RAM options. The Foundation is remaining true to its "$35 Pocket Computer" classic catchphrase by maintaining its 1GB ram option still priced at $35. Prices vary $10 per the next two tiers.
| | |
| --- | --- |
| RAM | Retail price |
| 1GB | $35 |
| 2GB | $45 |
| 4GB | $55 |
Remember prices and fees will vary depending on your location. All three variants are launching June 23rd 2017. And it looks as if the Foundation has built more 2GB RAM models than any other model for the time being.

If you live in the US like the Sudo Grizzly Gents Team.…GOOD LUCK… we ourselves are having trouble sourcing these boards. Your best bet is to use Chigagodist.com with shipping beginning on July 1st.
New Raspberry Pi 4, new features
At first glance, the Raspberry Pi 4 board looks very similar to the previous $35 boards. The Raspberry Pi Foundation worked hard to stay true to this, but for the first time they have made a small number of essential tweaks to the form factor to accommodate new features.
Power
The Pi Foundation moved from USB micro-B to USB-C for our power connector. This supports an extra 500mA of current, ensuring we have a full 1.2A for downstream USB devices, even under heavy CPU load.


Video
To accommodate dual display output within the existing board footprint, they've replaced the type-A (full-size) HDMI connector with a pair of type-D (micro) HDMI connectors.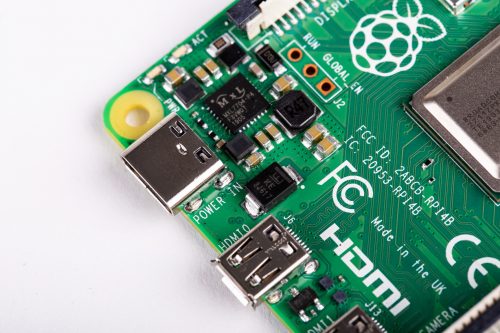 Ethernet and USB
Oh man this is what I was waiting for! Gigabit Ethernet magjack has moved to the top right of the board, from the bottom right, greatly simplifying PCB routing. The 4-pin Power-over-Ethernet (PoE) connector remains in the same location, so Raspberry Pi 4 remains compatible with the PoE HAT.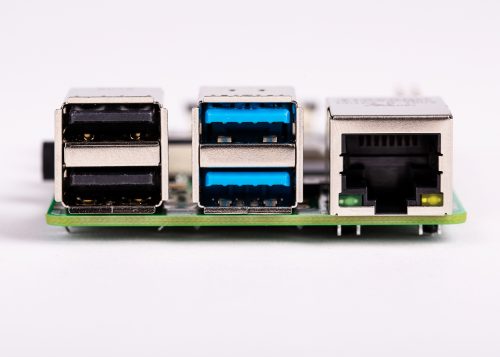 The Ethernet controller on the main SoC is connected to an external Broadcom PHY over a dedicated RGMII link, providing full throughput. USB is provided via an external VLI controller, connected over a single PCI Express Gen 2 lane, and providing a total of 4Gbps of bandwidth, shared between the four ports.
All three connectors on the right-hand side of the board overhang the edge by an additional millimetre, with the aim of simplifying case design. In all other respects, the connector and mounting hole layout remains the same, ensuring compatibility with existing HATs and other accessories.
New Raspbian software
To support Raspberry Pi 4, The Foundation will be shipping a radically overhauled operating system, based on the forthcoming Debian 10 Buster release. This brings numerous behind-the-scenes technical improvements, along with an extensively modernized user interface, and updated applications including the Chromium 74 web browser.
Here's a snap-shot of the Desktop in Action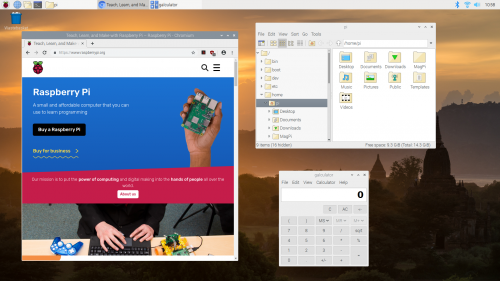 Sudo Grizzly Gents, The Pi 4, and The Tesseract
So whats our teams plan for the Pi 4? Currently we need to get our hands on a few boards first. We are excited more than anything about the 2GB and 4GB RAM options. This is going to bring our users experience to a whole new level.
We definitely need to see how the new Debian 10 Buster goes, then start testing our image with the board, then analyze what changes and compatibility adjustments need to be made on our end using our platform. Given that everything works out this opens the door for gaming that once limited our users to around the Dream Cast will now be able to play games up to…dare I say it PS3?

Stay tuned for more!
Be sure to follow more of our shenanigans and updates on our site

http://www.sudogrizzlygents.com
Follow us on Facebook
https://facebook.com/sudogrizzlygentsllc
https://instagram.com/sudogrizzlygentsllc