Security – Is NordVPN Safe?
So far, NordVPN has defended its reputation as a solid choice for streaming and torrents. But private and secure browsing has always been this VPN's forté.
In fact, NordVPN underwent an external auditfrom a Big Four accounting firm recently, and it confirmed VPN's claims of privacy and security. We aren't allowed to share the full report here, but NordVPN subscribers can access it from the Member Area on the website.
We take a closer look at NordVPN's overall security below.
Does NordVPN Keep Logs?
No. NordVPN is officially registered in Panama – hardly the Silicon Valley, but a country with many other benefits.
For one, Panama is far away from the 14 Eyes This is very important for privacy, as a VPN based in a Fourteen Eyes country is within reach of a massive spy network that's known to gather and share all kinds of sensitive user data. This isn't the case with NordVPN – a strong start.
Moving on, Panama doesn't have any invasive data retention laws. Normally, such legislation would require internet and VPN service providers to keep logs of their users' online activity for set periods of time. NordVPN doesn't have to comply with any of that, which makes it one of the few VPNs with a true zero-logs policy.
In short, NordVPN doesn't collect any important data from your connection of bandwidth usage. This is reinforced in its informative and well-written privacy policy:

That said, keep in mind that NordVPN will keep a record of your email address and payment data if you choose to buy a subscription the traditional way. This is common for every VPN service. You can avoid sharing too much by using a separate email and buying with cryptocurrency, which NordVPN offers as a payment method.
Does NordVPN Have an Adblocker?
NordVPN claims to provide adblocking and extra malware protection with its very own Cyber Sec Suite It's built-in and takes just one click to enable – but does it work?
Absolutely. Over a two-hour test period, we didn't encounter a single annoying pop-up and enjoyed a fully ad-free experience. We were even able to skip YouTube ads entirely!
CyberSec is a great addition, but it's just one of NordVPN's extensive security features.
Remember the specialty servers we mentioned earlier? Aside from streaming and torrenting, these help with advanced protection as well.
Double VPN serversdo exactly as the name suggests. By routing your data through two VPN servers at once, you benefit from double data encryption. While most users won't need this for their torrenting or Netflix sessions, it will be appreciated by those looking for an extra layer of protection.
Let's talk about the kill switch – an essential part of any solid VPN's arsenal. Here, you get not one, but two of them.
In addition to the usual connection kill switch, which halts all internet traffic if the VPN stops working properly, you also get a separate one for specific apps: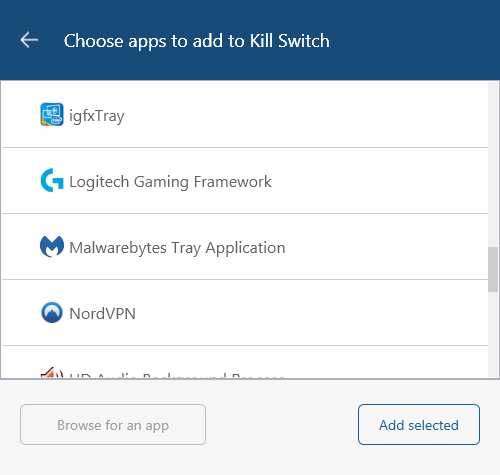 NordVPN's application kill switch makes it easy to browse and add programs
Other great security features you'll find in NordVPN include:
DNS leak protection

with custom DNS settings for advanced users
LAN invisibility setting, which hides your device on local area networks
Auto-connect

for true one-click VPN protection
Onion Over VPN servers, designed to provide extra protection while using Tor
Easy switching

between

OpenVPN TCP and UDP

protocols
Dedicated IP servers, useful if you need a static
IP address for banking and other purposes
Last but not least, NordVPN offers special obfuscated servers. These are especially useful if you're located in a country with heavy online censorship and restrictions. Which brings us to our next talking point…
Does NordVPN Work in China?
Thanks to the extra obfuscation and bulletproof encryption (more on that soon), NordVPN is one of the best services you can bring with you to China.
It takes a lot for a VPN to bypass the Great Firewall, and even top-shelf providers can struggle in achieving this task. However, NordVPN has proven itself as a reliable pick for China many times – just remember to install the VPN before you're in the country, or you may have trouble accessing the website and downloading the software.
NordVPN's obfuscated servers also work in other difficult regions like Iran, Qatar, and the UAE. It's possible you run into issues – no VPN is 100% effective in such matters, after all. That said, you'll be hard-pressed to find a more dependable service for stealth.
Price and Value for Money – Is NordVPN Worth It?
NordVPN is an impressive multi-purpose VPN. It thoroughly covers all aspects of a premium service, but that must mean it's also expensive. Right?
Wrong! Compared to other top-rated VPN providers, NordVPN's monthly subscription is the same – a little too pricey. However,it really pulls ahead with yearly plans and more, thanks to regular huge discounts.
For the amazing value it offers, NordVPN is actually priced very reasonably. Even users on a budget can easily afford it. Without a doubt, NordVPN currently offers the best value on the market – especially if you're hunting for a long-term service.
What's more, you have great opportunities to test this VPN in all its glory – for free!
Does NordVPN Have a Free Version?
NordVPN doesn't offer a free trial, but comes with a 30-day money-back guarantee you can use to test the service, risk-free. We think this is better than a free version.
Free VPNs have the obvious advantage of costing nothing, but you'll often trade money for a different "currency" in the long run. Whether it's poor performance, limited bandwidth, or – worst of all – your privacy, you'll always pay for something in the end.
A secure VPN needs money to maintain its infrastructure and provide outstanding service, period.
With NordVPN, you get a whole month to see what it's all about. The best part is you'll have access to all servers and features– a huge advantage over many other VPN services.
You can cancel at any point during the trial period and get a full refund.
This is what we want to see out of all premium VPN providers. Great job, NordVPN!